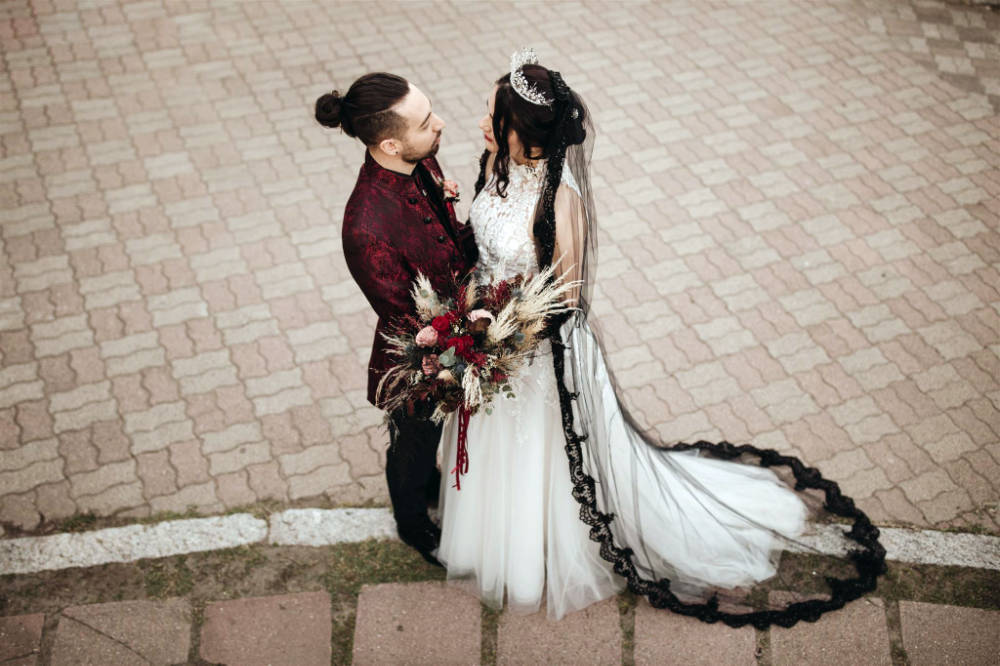 Congratulations to Valentina, one of our latest La Novia brides in her gorgeous Etoile Collection wedding gown! As always we love to receive real bride photographs, and see our dresses travel the world. Valentina's wedding look and style was utterly unique, it was a true joy to work alongside her to create her dream dress.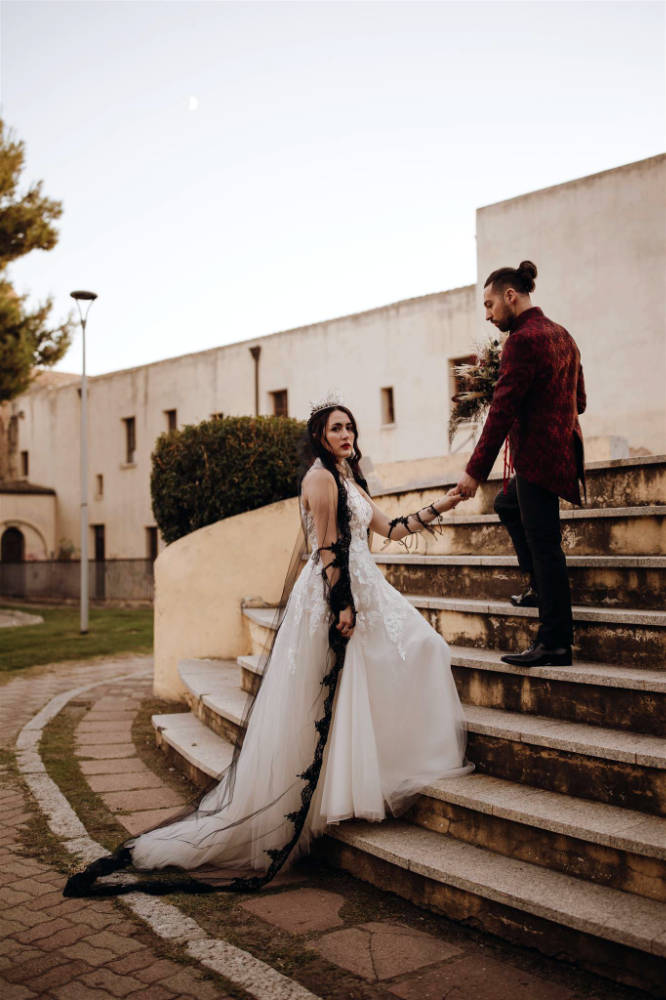 This unique gown combines lace, tulle, and floral fabrics to create the ultimate grand entrance bridal look. The top of this gown is perfect for the brides who love lace and want to have botanical and floral themes featured in their dress.The high neck creates an exquisite look,bringing a classic and regal touch to the gown, the bodice is rounded off perfectly with a delicate satin button finishing, a small detail which elevates the whole look!
https://www.lanovia.co.uk/repo/realbrides-posts/images/2023-april-valentina/2023-april-valentina-3.jpg
The wonderful thing about this gown is that it combines a fitted top, with a princess-inspired A-line skirt. The tulle material gives the skirt volume and creates that frothy, textured look which will float around you all day long. The detailed patterns featured on the top, flow from the bodice into the skirt of the dress to give that scattered lace effect.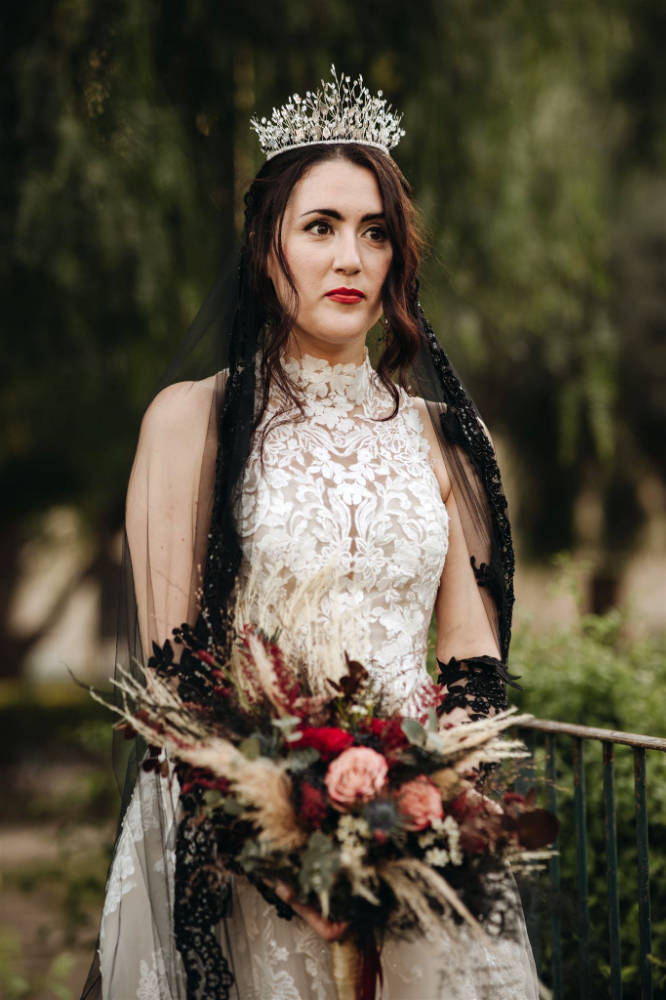 In terms of Accessories, Valentina wore a gorgeous black lace veil with a sparkly queen-like tiara. At La Novia, we love that our brides step outside the traditional bridal path and incorporate unique, contemporary touches to their wedding look. If reading this has inspired you, we have a wide ranging collection of bespoke accessories which the La Novia team can curate especially for you. The luxury of having a bespoke veil or headpiece is that your options are limitless- you can experiment with colour, texture and style.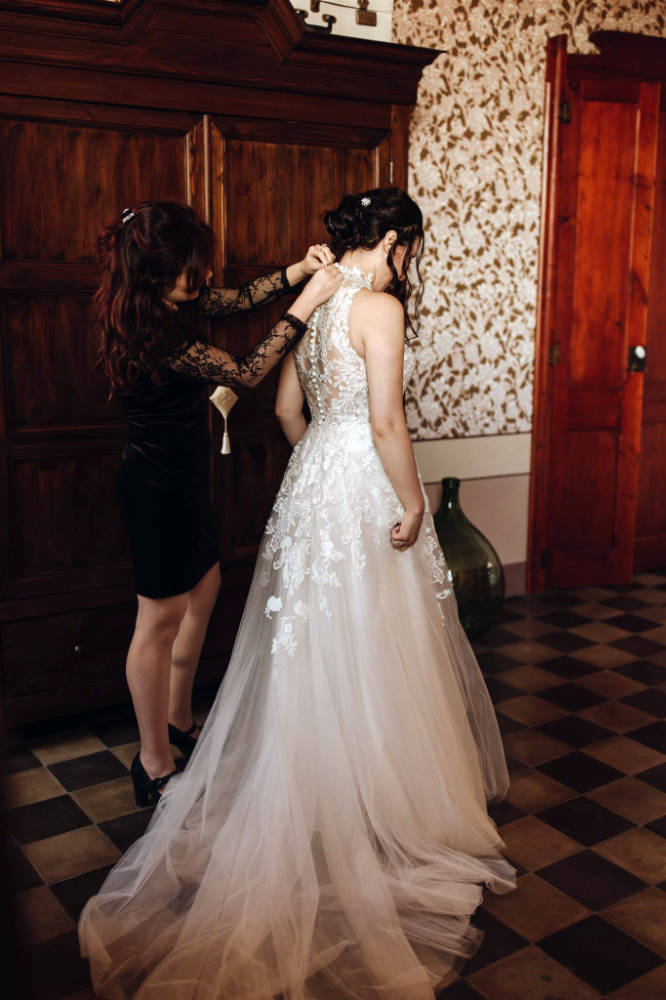 Thanks again to Valentina for sharing these gorgeous wedding photos- it was a joy to play a small part in your magical day! We cannot wait to welcome new brides to La Novia, book your appointment now.