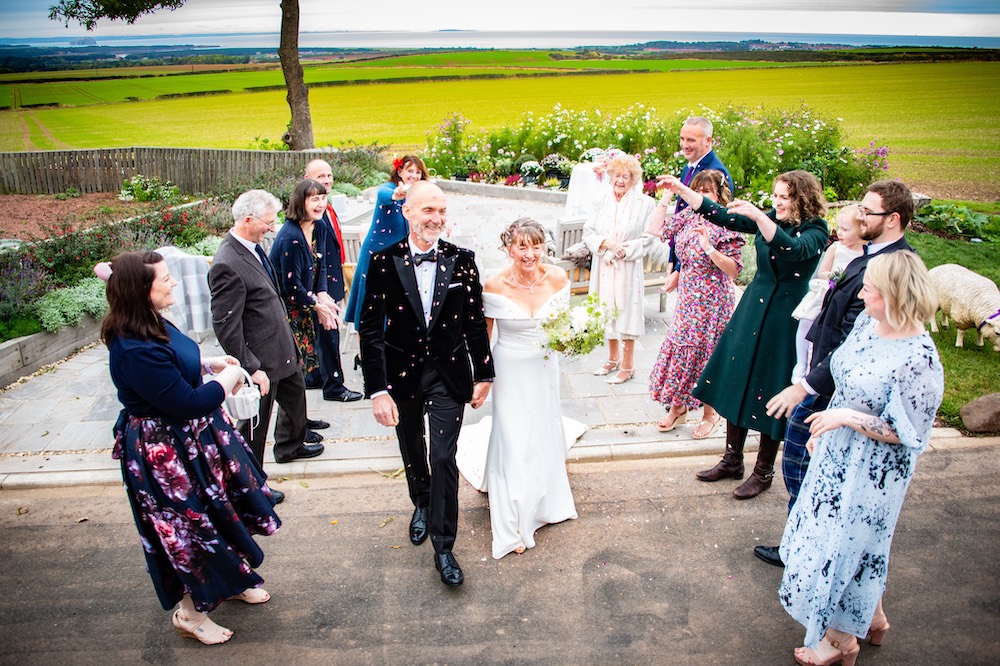 Real Bride: Kay and Peter- The Ultimate Inspiration For your 2022 Scottish Wedding
Congratulations to our latest La Novia Edinburgh couple- Kay and Peter! In the words of Kay: "the dress was stunning, everyone commented and is still commenting! It couldn't have been a better fit, and the alterations were perfect. I felt like a proper princess for the day!" There is nothing that makes us happier at La Novia than helping our brides find a dress that not only looks amazing but makes you feel special. Our Liliana Dabic 'Rebecca' dress is a perfect match for an intimate wedding ceremony. It can be said that the bridal world has had to adjust and adapt over the past two years, but what is certain is that if your nearest and dearest are with you, all will be well.  With this said, if you do have to undergo last minute wedding changes, rest assured that the La Novia Bridal boutique team will have you covered- 2022 wedding gowns will continue to embrace change!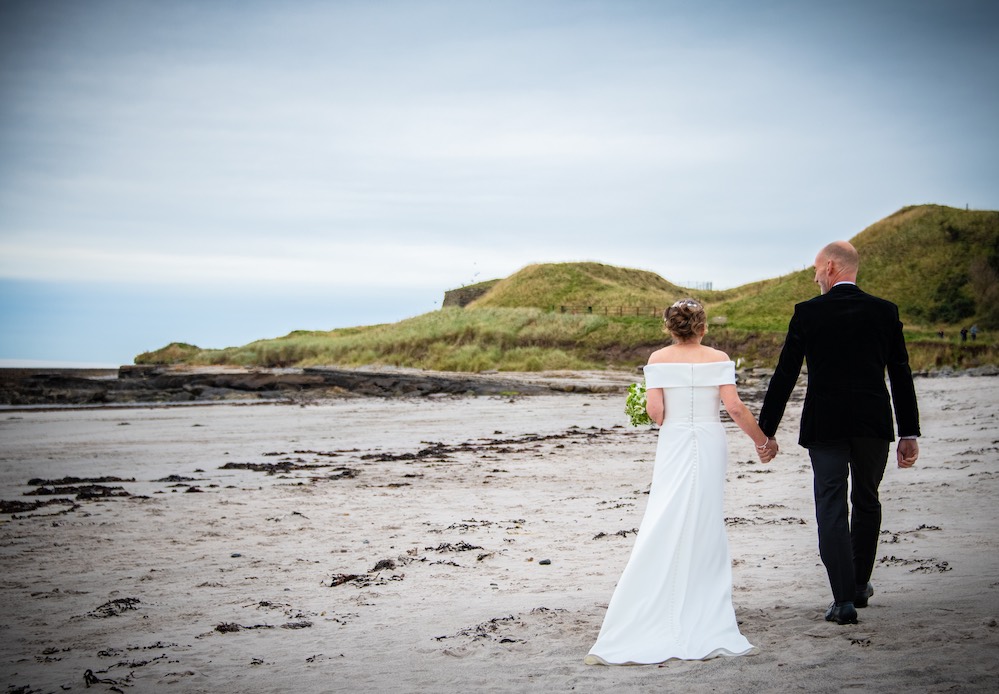 Elegant and effortless is the ultimate luxury bridal style, and describes exactly what Kay's wedding gown is all about. Undoubtedly, one of the keys to achieving sophistication lies in the material of the dress. 'Rebecca' is made from double crepe which feels utterly luxurious against your body, the simple but perfectly tailored cut of the design makes it a standout dress, without the need of adornment. The straight silhouette gives the dress structure yet promises you all day comfort. As 'Rebecca' is part of our bespoke bridal collection, you can choose and alter the length of your train. This is another perk of couture bridal wear, which allows you to personalise and play with added details to create a unique wedding look!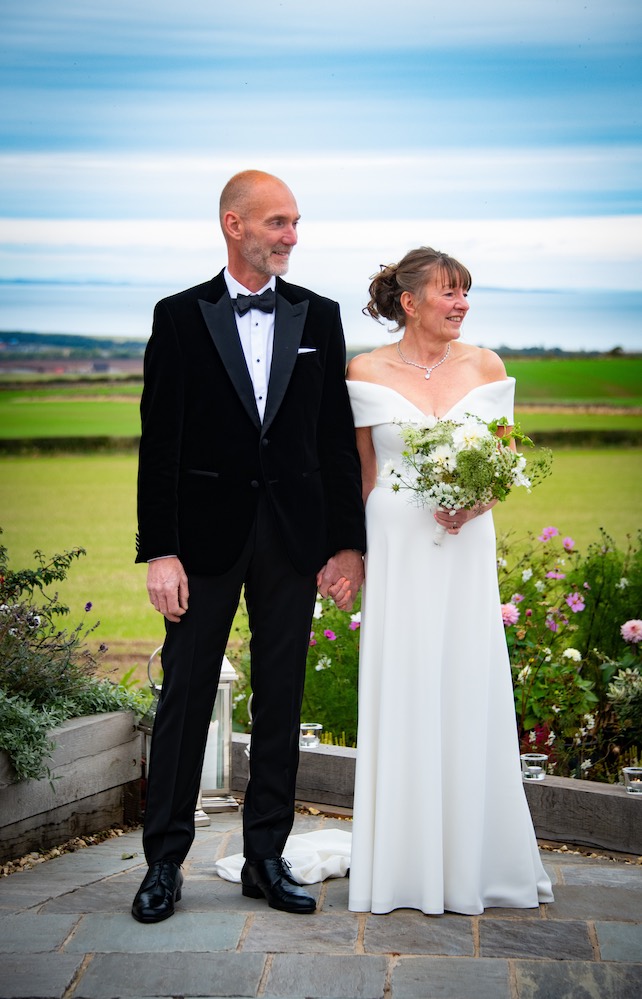 The off- shoulder neckline will draw eyes to your shoulders and elongate your neck, the panel sleeves which meet in a V around the bust adds a gorgeous final touch to the bodice. An off-shoulder neckline also means you can go for statement bridal accessories- Kay's drop pendant necklace being a perfect example. At La Novia bridal studio, we have a huge variety of bridal jewellery, as well as veils and headpieces, to match with whatever wedding vibe you are dreaming of.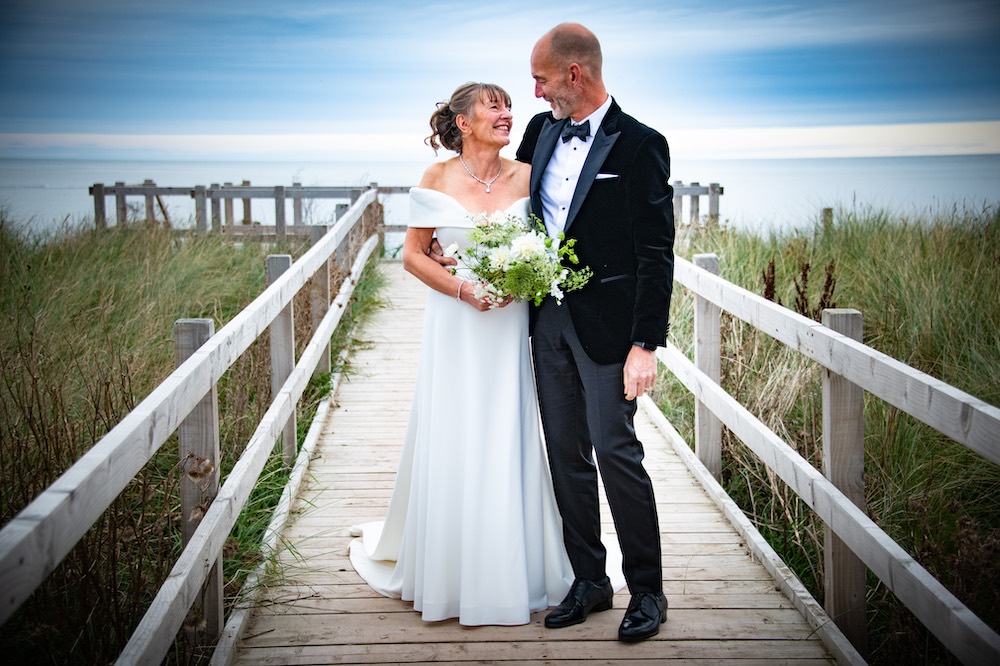 Kay and Peter's laid- back attitude stands out in these wonderful pictures, capturing their intimate ceremony which took place at their home by a sandy, glorious beach- postcard perfect! For our brides looking for 2022/2023 wedding dresses, we are taking appointment bookings for next year! Get some bridal inspiration from these fab pictures and book your appointment at our Edinburgh bridal shop now!
Photographer:  Sylvia@goosegreenfilms.co.uk
Wedding venue:  Little Spott Steading (our home)
Florist: Kay's garden!
Hair by Michelle @ Hair, There & Everywhere – mobile hairdressing (Facebook!)