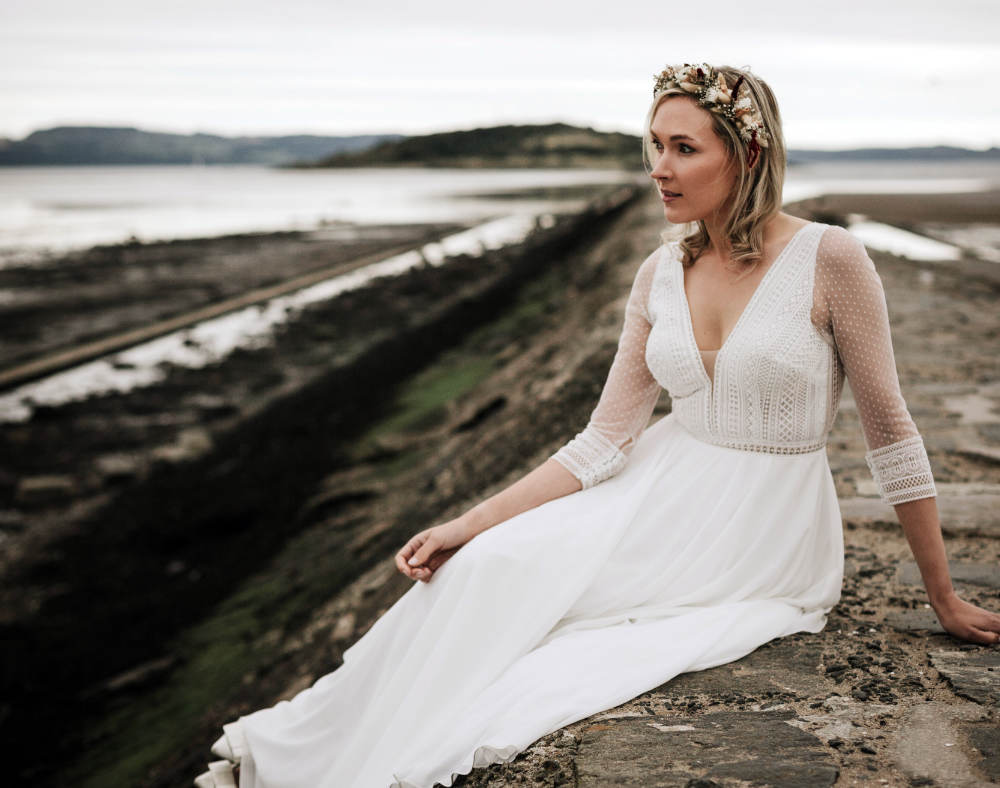 Boho Chic meets Modern Romance
The Katie dress… for the brides who are looking for a dreamy, relaxed, and whimsical look- Oscar Lili's 'Katie' is the wedding gown you're after. Katie is the perfect combination of boho chic, whilst remaining bridal and romantic. As we draw to the end of 2021, we know that future brides are looking for 2022 (and 2023) wedding inspiration, we hope to give you some here!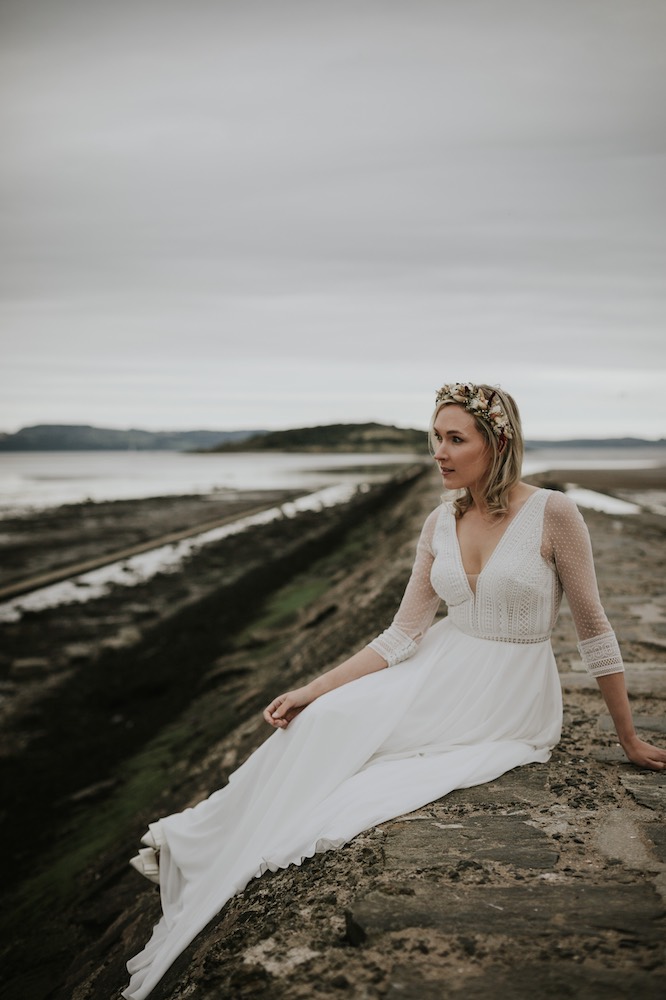 Let us start with the bodice- featuring such an array of intricate detail you won't know what to fall in love with first. The dainty polka dot pattern met with highly- detailed intertwining criss-cross patterns offer a refreshing, fun take on traditional lace. This is what Oscar Lili bridal studio is all about, always striving to provide you with cutting edge bridal designs, created from high-quality sustainable materials.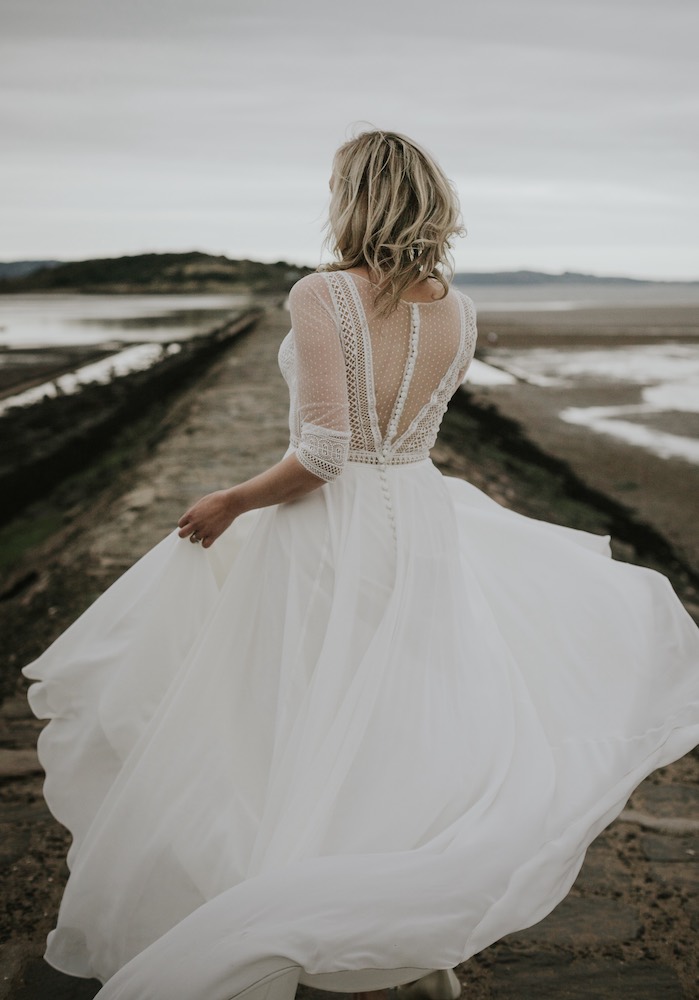 The mirror effect of the deep V- neckline and sheer V shaped back provides a symmetrical balanced effect among the embroidered design. The three-quarter sleeves are the perfect length, giving you coverage without restricting movement. Eyes will be drawn to the contrasting applique sleeve edging- an elegant final touch to this dainty, soft material.   This A-line wedding dress creates an effortlessly beautiful look, as the bodice flows into a freely floating silhouette, giving you a very comfortable and complementary dress shape. The luxurious chiffon material will move graciously with your body, finishing with a modest puddle train for your walk down the aisle. 
Whether you are being married on a beach, a barn or a farm, Katie is a perfect, distinctive wedding day look. You can also have fun with bridal accessories, taking inspiration from our latest shoot by adding a floral crown, or for those chasing something more traditional, we have a varied selection of headpieces and couture bridal veils.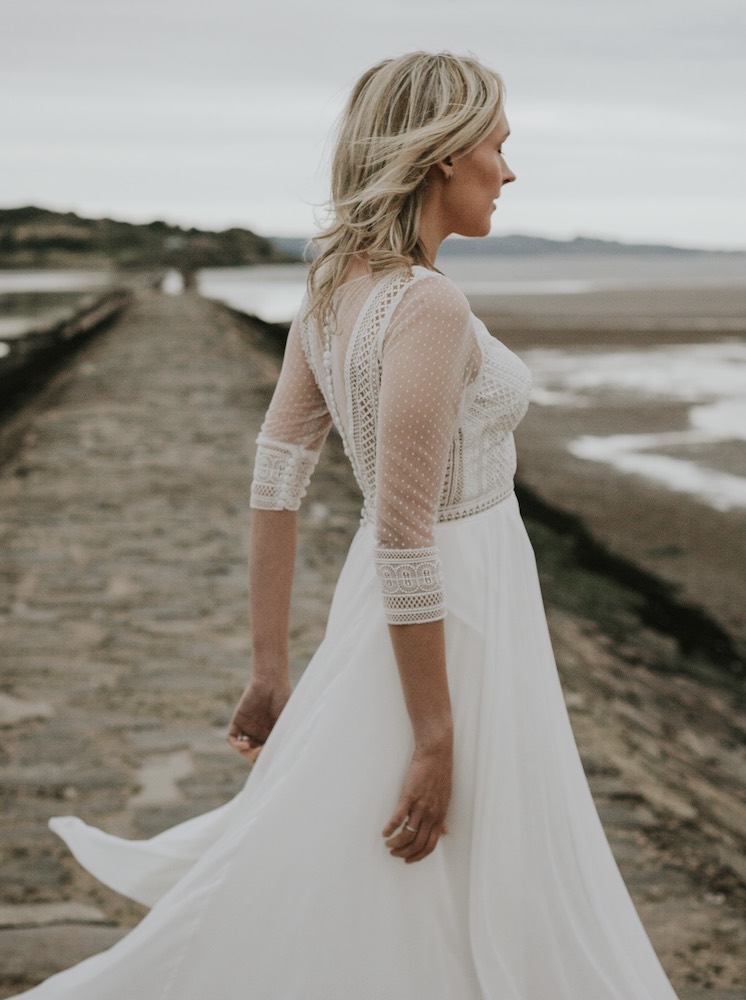 As all our Oscar Lili designs - these bespoke wedding dresses are fitted and altered exactly to your measurement and shape. We are proud to be a sustainable bridal designer, who use high-quality fabrics and ensure material waste is minimised. On top of being ethically produced, having couture bridal wear also gives you freedom to change or mould the wedding dress to your individual vision. Whatever stage you are in your bridal journey, come and try on our Oscar Lili wedding dresses, making you one step closer to saying yes to the dress.